Traditionally, most homes have been constructed with sloped (or pitched) roofs. However, flat roofing, which have typically been found primarily on commercial buildings, has become more common for homeowners desiring a specific aesthetic. Some experienced roofing contractors who offer a full range of roof installation services offer flat roofing as one of the many options from which both homeowners and business owners can choose.
Types of Flat Roofs & Best Flat Roof Material
As with pitched roofs, flat roof materials come in a variety of options. There are three types of flat roofs:
Built-Up Roof (BUR)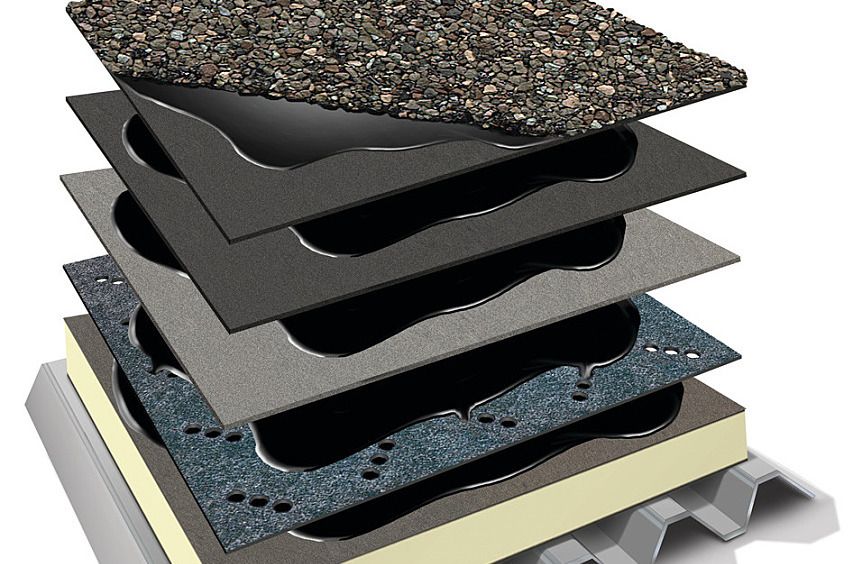 A built-up roof system comprises three or more layers of waterproof material, with hot tar layered between and a layer of smooth river stone on top.
Though it is often recognized as the best flat roof material since this type of type of flat roof is generally the least expensive option, and gravel is a good fire retardant.
On the downside, they are extremely heavy, messy to install, and challenging to repair.
Modified Bitumen Roof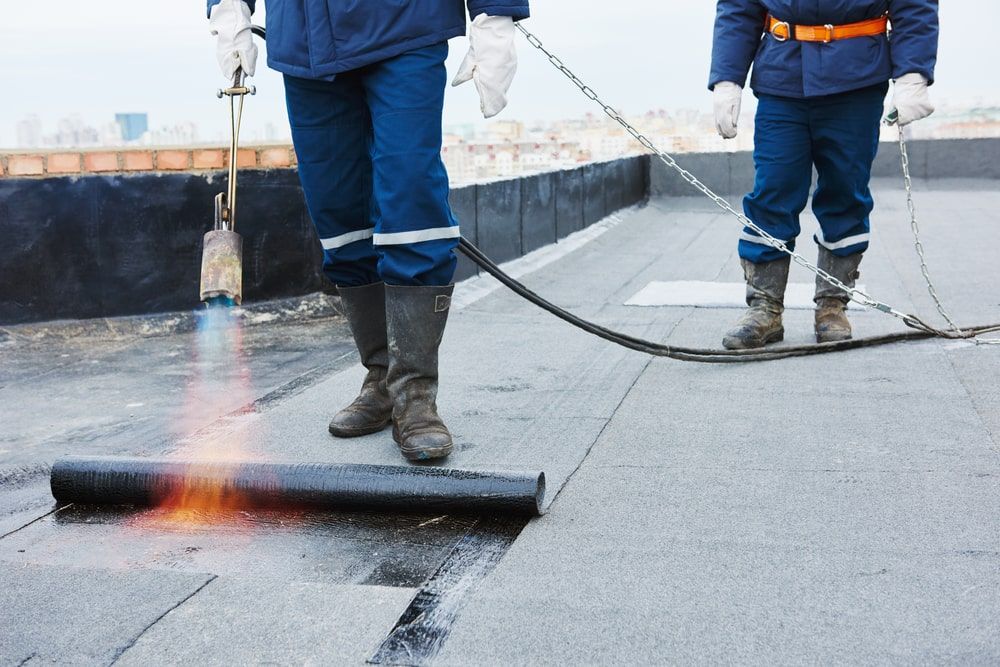 Modified bitumen roof systems are a single-ply material with a mineral-based outer surface. Traditionally, these systems required heating the adhesive with a torch as the material was unrolled, but newer peel-and-stick options are easier and safer.
Bitumen roofs are moderately priced, and are often available in white, making this flat roof material more energy efficient as it will reflect heat.
However, bitumen roof systems are not as durable as some other flat roof alternatives.
Rubber Membrane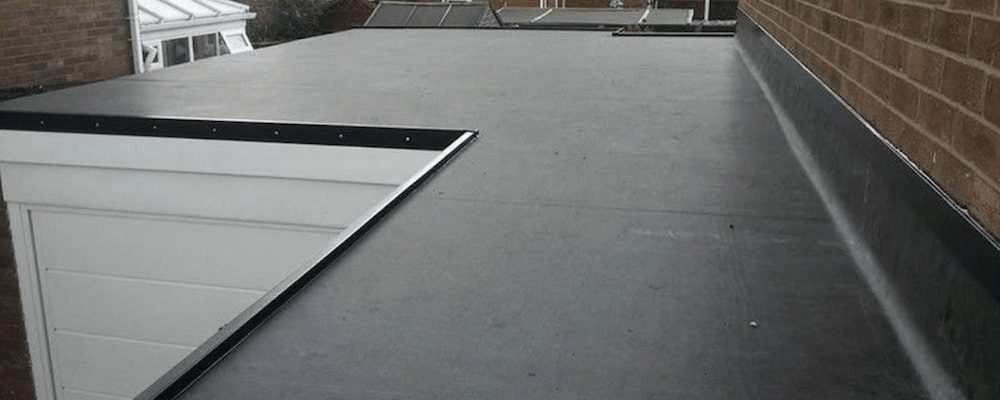 True rubber membrane is a single play that resembles an inner tube and is designed to resist damage from sunlight.
The material is fairly light and resistant to scuffs and tears, and rubber membranes are easy to patch.
However, they are more vulnerable to punctures. Rubber membrane has typically come in black, which absorbs heat, and more energy efficient, lighter alternatives are significantly more costly.
What Is TPO?
Of the options available for flat roofing installations, TPO is one of the newer. Thermoplastic Polyolefin (TPO) is a type of rubber membrane that is usually a blend of polypropylene and ethylene-propylene rubber. It reflects heat and is energy efficient. TPO is often qualified as the best flat roof material and is quickly becoming one of the preferred materials for flat roofs.
TPO roof material is made of three layers bonded together: a thermoplastic polyolefin base layer, a polyester-reinforced layer (also known as scrim), and a thermoplastic polyolefin top layer.
TPO was introduced in the 1990s as a more affordable option to PVC roofing, and it has become popular due to both its cost (it is one of the least expensive roofing options available) and its superior performance.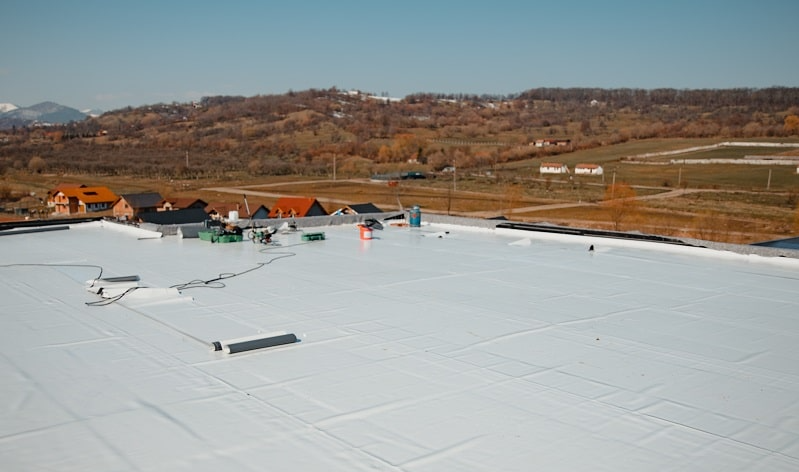 As TPO has become more popular, the options have also grown considerably.
Color - While white TPO has been the color that is used most commonly, TPO membranes also come in gray or black. This can be important for design considerations, but also for how much the roof contributes to the structure's energy efficiency.
Specifications - Different manufacturers produce TPO in a variety of thicknesses and widths, which means the specifications can be suited to the specific needs of the roofing job. Commercial-grade TPO is typically thicker but more narrow, and residential-grade TPO is thinner but often longer and wider.
Flat Roof Benefits
Flat roofs offer several advantages over more traditional, pitched roofing systems.
They are generally more affordable because a flat roof has less surface area than a pitched roof. Thus, flat roofs require less material and may require less labor hours to install.
They can be very energy efficient depending on the specifics of the material chosen.
Flat roofs are often used when adding an extension onto a home because they are easy to work with and can require less time to complete.
Modern architectural styles are very conducive to the clean lines of a flat roof. Flat roofs can suit any home or building style or landscaping theme, and they provide a unique, trendy look.
With the proper planning and care, flat roofs sometimes can be turned into roof decks and even rooftop gardens, which makes them both practical and usable.
What Is the Best Flat Roof Material?
Professionals often recommend PVC or TPO for flat roofing systems however the best flat roofing system for any given application depends on a variety of factors, including budget constraints, design aesthetics, the location-specific environment, local building codes, and more.
Perhaps more than with any other type of roofing material, flat roofing decisions usually require the assistance of a professional roofer or roofing company that has experience installing and maintaining flat roofs.
Unlike with traditional roofing materials like asphalt shingles or metal roofing, flat roofing is often unfamiliar to homeowners or business owners, so a knowledgeable guide is very helpful in exploring the options that will provide the most benefit for the most affordable cost.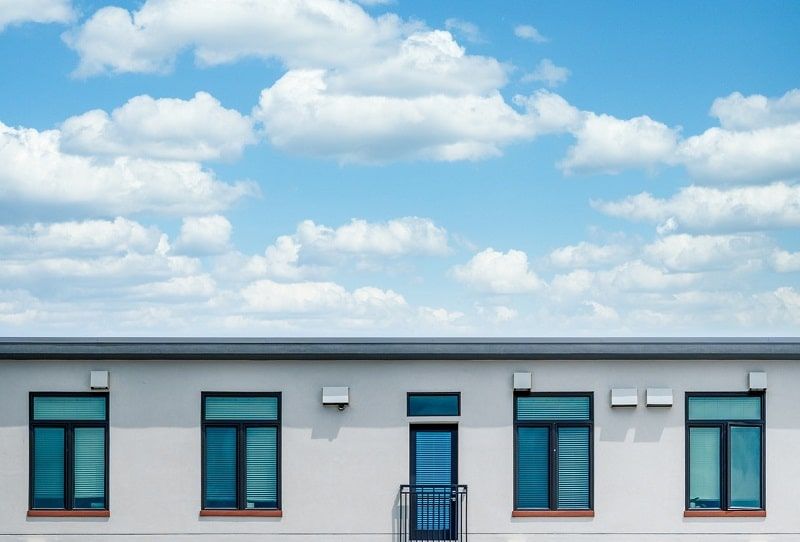 Residential Roofing Services and Commercial Roofing Services
Whether you have a flat roof or pitched roof, residential roof or commercial roof, Northpoint Roofing Systems can provide the roofing services you need in and near Woodstock. We are a Best of the Best 2020 National Award winner, and our team of experienced roofing professionals stands ready to help with all your roofing needs.
You can start with a free drone roof inspection to evaluate and assess your roof's current condition. Our experienced and licensed drone technicians use an innovative technology called IMGING by Loveland Innovation to automate image capture and artificial intelligence that aids in an unbiased analysis of data. The AI damage detection software we use is the same as what is used and trusted by major insurance companies.
Northpoint Roofing Systems can assist with homeowners insurance claims if your roof has been damaged by storms. We have the knowledge and experience to help ensure that your claim gets processed correctly, minimizing stress and hassle.
Your roof is one of the most important components of your home, as well as a significant investment. Trust the reliable, customer-focused team at Northpoint Roofing Systems to give you peace of mind knowing that your roof continues to protect your family and your home.
We have branches in Woodstock (corporate), Newnan, and Lawrenceville. Contact us today to learn more about how Northpoint Roofing Systems can help with all your roofing needs.