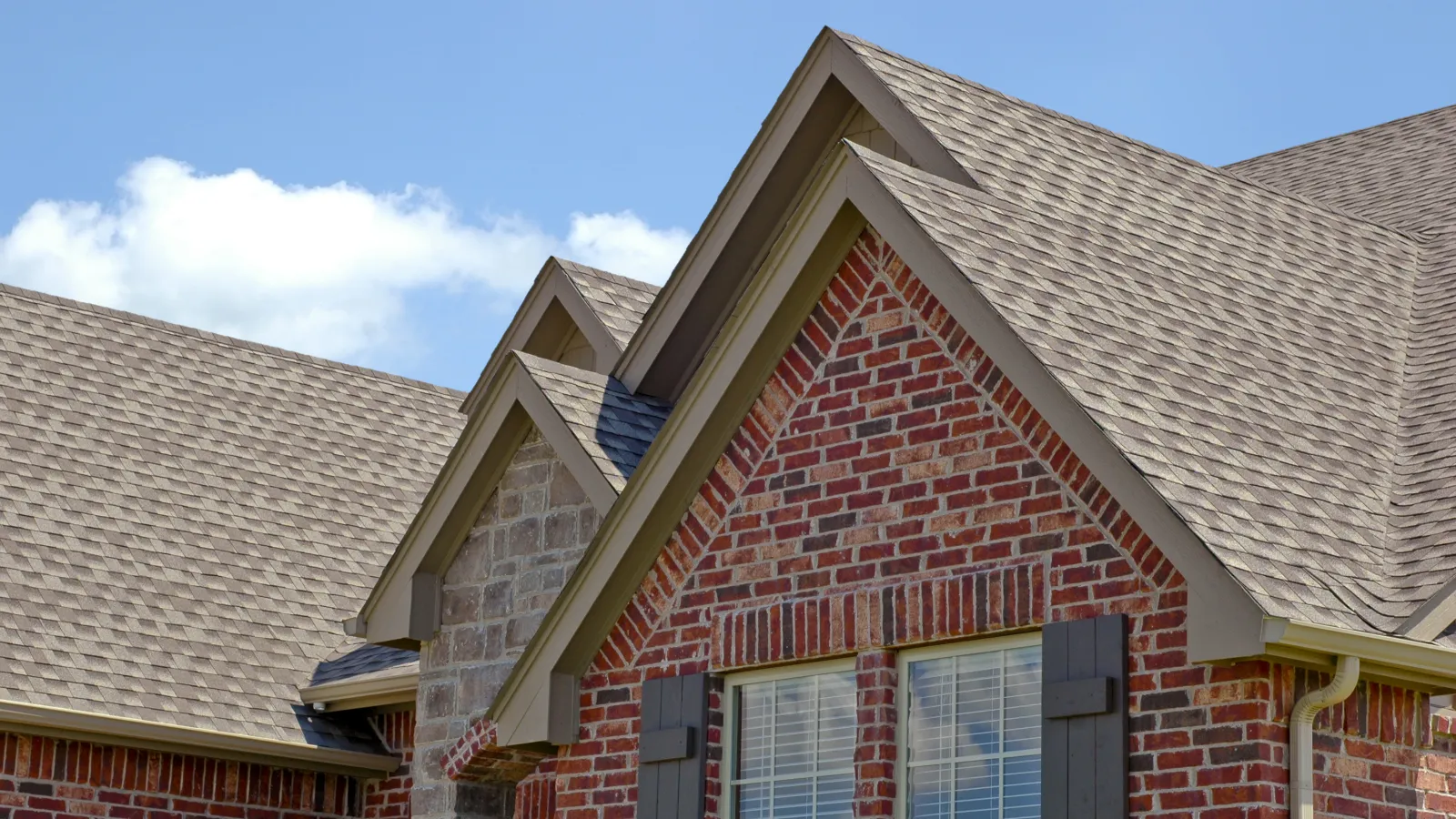 Q
What if my roof is too old and insurance won't pay for it to be replaced?
A
95% of homeowners carry full roof replacement coverage with their insurance, which means that the age of your existing roof is irrelevant. If it has damage, then it has damage. It's as simple as that. However, age often affects when insurance will pay for it, but that doesn't matter to a reputable contractor such as Northpoint Roofing Systems.

From the day that we file the insurance claim for you, until the day you receive your check from the insurance company is about 2 weeks. Once we receive your insurance paperwork, color choice, and shingle type, we will have materials at your property within 2-5 days. In most cases, your roof will only take one day to build.
Learn more about how Northpoint Roofing works with your insurance.
Q
Why is my insurance only paying for 1/2 of my roof when they covered my neighbor's roof in full?
A
No two houses receive the same amount of damage in a storm. Your neighbor may have sustained extensive damage, and you may have received none. The insurance company will only pay for the actual damage incurred. If the entire roof was not damaged, unfortunately the insurance company cannot pay for the whole roof. However, if it is borderline, it always helps to have your roofing contractor inspect the roof with your insurance adjuster to accurately assess all damage to the roof. Sometimes insurance adjusters may not be able to see all the damage if they are not able to walk on a steep roof and photograph certain areas. Northpoint Roofing Systems uses drone roof inspections, and AI technology to make sure that we have a full picture of the extent of the damage on your roof. In addition we will meet with the adjusters to go over our findings to make sure nothing is missed during the adjusters visit to your home.

Q
I'm worried that if you complete my roof installation in one day it won't be quality work.
A
All of our roofing technicians are licensed, insured, and bonded. They are trained by Northpoint Roofing Systems and have strict guidelines which they must adhere to. We also guarantee all of our work with a warranty which is shown in the contract.

Q
How can I avoid paying my deductible?
A
Legally, you can't. Of course, a roofer in collusion with a homeowner can submit falsified invoices. However, doing so is insurance fraud. Please do not ask Northpoint Roofing Systems to do this.

Q
What if there are aspects of the job that Northpoint Roofing Systems can't do?
A
Although Northpoint Roofing Systems is a full-service general contractor for exteriors, there could be portions of the project we don't specialize in. These often include: awnings, A/C units, electrical work, power-washing, shutters, and screens. Your insurance estimate will outline the dollar amount for each of these and we only take the portion of the money where we have performed the work.
Q
What is my out of pocket cost as homeowner?
A
The only cost to you is your deductible and any upgrades you choose. However, the more your insurance company allows for your roof, the less your upgrades will cost. In the unfortunate event that your insurance claim is denied, you owe us nothing and the agreement with Northpoint Roofing Systems is void.

Q
Does your company use toe boards during roof installation?
A
Toe-boards are 2×4 's that are nailed into the roof for crews to stand on while installing the roof. This will put holes in your shingles and plywood and will cause leaks in the future which is why our roofing technicians do not use such techniques during roof installation. Our crews, on the other hand, use ropes and kneeling cushions to prevent any damage to your shingles and plywood.
Q
Will my insurance premiums increase or will my policy get canceled following a roof replacement or repair claim?
A
A hail storm is an "Act of God," and is out of your control. We have yet to come across a situation where a homeowner has been canceled due to a hail claim. However, if you currently have a "no claim discount", you might lose this benefit.
Q
How do I know if there is hail damage to my roof?
A
In a hailstorm, most hail that hits your roof and house may be too small to cause any damage. However, a percentage of the hail may be large or irregularly shaped, which can cause severe damage that may not be apparent and may not start leaking for some time. It is best to have a drone roof inspection to determine if you need to file an insurance claim and have an insurance adjuster assess the total amount of damage incurred.

Q
Why did the insurance company withhold depreciation on my roof? Will I get that money?
A
There are two reasons that the insurance companies withhold some money back. The first reason is to make sure that you have the work completed. The second reason is that they wish to make sure that you pay your full deductible.
Most insurance policies cover the full roof replacement value. The first check the insurance company gives you is the Actual Value (AV); what the roof is worth today with it's useful remaining life. The money that was withheld is called the depreciation, or technically, the Replacement Value (RV) and will be paid to you when the work is completed or most times upon the submission of a signed contract with a licensed contractor for the work specified in the insurance adjuster's summary report.y report.

Q
It looks like my insurance already took out the deductible from the check they sent me.
A
When most people look at their insurance paperwork, they are often confused because they think the insurance company subtracted their deductible from the money the insurance company has sent them. However, the deductible is the amount that the homeowner is responsible for paying directly to the roofing contractor. The insurance company subtracts the homeowner's deductible amount on the paperwork from the total amount the insurance company allows for the claim, since the homeowner will pay their deductible directly to the contractor.
Q
What if the total roof replacement cost is more than my insurance estimate?
A
Usually, this is because of something the insurance adjuster missed in the scope of work to be completed. We can almost always work something out with the insurance company. We will submit what is called a "supplement" with documentation in the form of pictures, measurements, and paperwork. The insurance company will review the supplement and upon approval, send a check for the additional monies needed to make the repairs.
If you are not sure how to get insurance to pay for roof replacement, contact us to learn more about how Northpoint Roofing works with your insurance.
Q
How do I reschedule an appointment I missed?
Q
Do you have a referral program?
Q
What areas do you service?
A
Northpoint Roofing provides comprehensive roofing services to Georgia and Tennessee residents. Our roofing technicians can deliver outstanding roof installation and repair services to Atlanta, Marietta, Lawrenceville, Newnan, Woodstock, and Chattanooga TN.
In addition, our partner brands Rising Star, Cardinal Roofing, and Master Roofers can answer Florida, Alabama, Connecticut, and New Hampshire's residents' needs with locations in Birmingham AL, Foley AL, Mountain Brook AL, Pelham AL, South Windsor CT, Bonita Springs FL, Lake Worth Beach FL, and Manchester NH.
DO YOU NEED A
FREE DRONE INSPECTION?